THE INSPIRATION 
The surreal thought of British secret agent Harry Palmer (Michael Caine) meeting Pete and Dud (Peter Cook & Dudley Moore) in a train station and what hilarious nonsense could unfold, is what inspired award winning comedy writer/director Gavin Irvine to create 2:40 to London.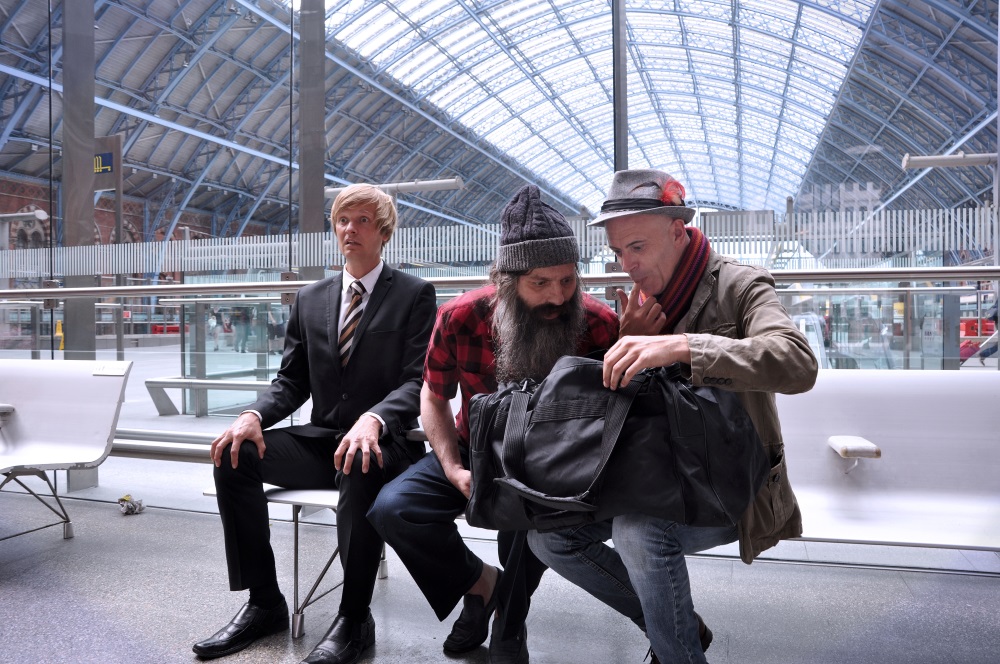 THE PLOT
Two desperate looking men, Alf and Terry, wait at St Pancras train station for a mysterious man to turn up with the merchandise. Their discussion effortlessly encompasses the weighty matters of our time, but unfortunately this is not true - it's totally banal! 
The handsome, sharped dressed, mysterious man leaves a brooding sassy older woman and takes the 2:40 train to London. Once at St Pancras he is put into a trance by Alf, and hands over a holdall containing the goods. Happy with the merchandise, Alf brings the mysterious man around and he casually walks away.
Who are all these men? Spies, British Secret Service, gangsters, or just plain opportunist tramps with a penchant for the dark arts? Why is the older sassy woman so grumpy? Is she with SPECTRE? What's in the holdall? And what is the merchandise? A nuclear device? A first edition of "Induction of Psychoneuroses by Conditioned Reflex under Stress": IPCRESS!! Or Harry Palmer's mum's homemade chilli?
Questions, questions, questions - but all will be revealed if you pledge your support and help us make our film become a reality - well most of it will be, it is only a 7 minute film after all! 
THE DEPARTMENTAL BRIEFING
We would now like to invite you to join our experienced team of international operatives working out in the field and make the film go global - whether that's by directly backing it or by spreading the word to your friends, family, neighbours, double agens, colleagues, and social networks. So now what to do?... A word in you shell like ear, please ...